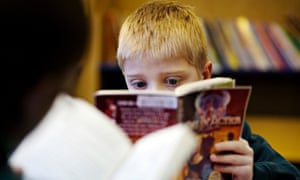 The big challenge for teachers is not simply getting students to read – it's getting them to enjoy it too. It's one thing for students to trudge through set texts in a lesson, but will they open another book when they get home at the end of the day?
The National Literacy Trust has noted that becoming a lifetime reader is based on developing a deep love of reading.
"Research has repeatedly shown that motivation to read decreases with age, especially if pupils' attitudes towards reading become less positive," it said. "If children do not enjoy reading when they are young, then they are unlikely to do so when they get older."
For younger readers in particular, their home environment is critically important.
"Home is a massive influence," says Eleanor Webster, a primary school teacher in Nottinghamshire. "Supportive and understanding parents are key to developing their child's reading."
But if a pupil doesn't see people reading at home, it may be harder to instil the idea of reading for pleasure. So what can teachers do to encourage it? Here are some of the best ideas, initiatives and projects that teachers have developed to motivate children and help them develop a love for reading:
Reading challenges
Reading competitions come in many shapes and sizes, with the aim of spicing up literature and giving children an incentive to open a book. Mountbatten School in Hampshire is one school that has run several projects to encourage reading for pleasure.
"We wanted them to try reading a broad range of books," says Jennifer Ludgate, an English teacher at the school.
"We challenged students to read one book, fiction or non-fiction, from a wide range of genres. They get them ticked off by their teacher and there are medals at the end of the year."
Another competition saw students race against time to tick off the classics.
"A colleague created the '16 Before You're 16 Challenge' for the older years," says Ludgate.
"We chose 16 classics, like To Kill A Mockingbird and Brave New World, and challenged students to read as many as they can before they turn 16. It's a good way to make sure they're being challenged."
In another contest, Eleanor Webster gets younger children to read for pleasure with "extreme reading" competitions over the summer holidays.
"They're always very popular," she says. "Children take pictures of themselves reading in strange places and we display the photos in the main corridor. Some were on roller coasters, in tractors, on top of bookcases or at holiday destinations."
The 100 Word Challenge , created by Julia Skinner, asks children to write regular posts online and read other students' work.
"When you tell kids, 'We're going to do some reading,' it can immediately turn them off," says Skinner.
"But with this you say: 'We're going to support someone who has done some writing. What do you think of it?' It gives them a purpose to read."
Jennifer Ludgate, who uses the 100 Word Challenge, explains: "Their homework is to read two students' writing – they really like it because it's short, easy to read, and it only takes them a couple of minutes."
Escapism
While reading challenges can give a sense of purpose, escaping the challenges of school is a crucial part of encouraging reading for pleasure.
"Children won't find reading pleasurable if there is too much pressure on them," says Webster, "so a relaxed atmosphere and a positive ethos around reading is really important."
"One teacher in my school started referring to library sessions as 'the escape'," says Suzy Dodd, an English teacher at the Co-operative Academy of Leeds.
Promoting reading as a form of escapism from the general pressures of school and their social lives encouraged her class to see reading as a form of self-indulgent relaxation, instead of another intelligence test. Her class are among the most prolific readers in the school.
In September she gives her kids a good talk about reading as escapism, and then introduces library sessions by saying, "we get to escape for an hour today".
Teacher involvement
"Showing students that teachers of all subjects read books, not just the English teachers, is really important," says Ludgate.
"We asked teachers to bring in two or three of their favourite books. Then, at the start of every lesson, whether that be geography, maths or whatever, the teacher would read to the class for ten minutes from their favourite book.
"The students would come in talking about what their PE or history teacher was reading, and that would spark really interesting discussions. It's especially good if they don't see people reading at home. "
Reading walls
"Having a print-rich environment is important," says John Murphy, who is an English and history teacher in Ireland and blogs at Web of Notes.
"The surroundings should encourage reading in all its forms and support their choices of reading material. I don't simply mean putting up a poster which tries to promote reading because it's 'cool' – I think they're totally ineffective. Instead, students and teachers could share the name of the book that they're reading at the moment, and offer a sentence about it. It's a great way to share recommendations."
Drop Everything And Read
Drop Everything And Read (DEAR) is used in classrooms across the country, and allows children to forget their normal tasks and drift away with a good book.
Webster explains: "The whole school has a set time in the school day where children read to themselves or an adult and they can choose from a wide variety of books."
Ludgate says it is important that DEAR does not become a task: "Having 10 minutes of reading at the beginning of every lesson doesn't always work because it can become too ingrained. But the idea with DEAR is that it goes across different subjects – not just English."
Reading to the class
Encouraging children to read for pleasure is about more than getting them to pick up a book; it's equally important for children to appreciate a good story.
"I think it's important to make sure you read to them as much as they read for themselves or other people, making it a more supportive environment," says Ludgate.
"Spending once a half term saying, 'Right, I'm going to read to you this lesson', I think really encourages them to appreciate it. The older years in particular haven't been read to at home for so long that they absolutely love it."
Anything goes
"It's crucial to bear in mind what the student wants to read," says Murphy. "Having this control shouldn't be undervalued, and I think they should be allowed to venture from one type of book to another.
"Introduce students to a wide variety of texts, mediums and genres – they may surprise themselves once they have faced preconceived ideas about what they consider enjoyable and embrace a diversity in what they read. Comics, ebooks, short stories, online articles and magazines shouldn't be ignored."
Books across the curriculum
"Our curriculum is very creative and topics are often set around a book," says Webster.
"Children respond well to it because they love exploring details of books and making books come to life. For example, we had a whole term based on the Gruffalo in September. Now in the summer term children often recite it word for word and talk about other Julia Donaldson books they've read since."