The

magic

of Whole

School

reading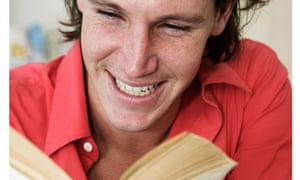 Whole School Reading
• That would never work.
• Our children don't borrow books from the library.
• Senior leadership will never agree to or support this initiative.
• Children find reading a chore.
• My head teacher will never buy into this.
There are so many negative attitudes towards creating a reading culture in schools it can be difficult to see the light at the end of the tunnel. But, never fear! With a few easily applicable strategies your school can become a reading school too. Believe us – anyone can do this. To every barrier, there is a solution. So, how do you get children to read?
Firstly, your staff must be seen as readers. Children need to see adults consistently reading for pleasure. Why should children see reading as a valuable activity if the adults around them do not demonstrate that reading is fun and important to them?
At the recent Guardian Reading for Pleasure Conference on 20th October 2011 we had the privilege of leading a workshop on embedding a reading culture in a school.
The results of our diamond nine exercise revealed that every participant decided the most important activity a school could initiate was Whole School Reading or Drop Everything and Read (DEAR). This is an activity that involves every member of the school staff and at an allotted time each week, or if you are able, every day, every member of your school community drops everything and reads silently. In our school, we have a totally blissful and welcome 15 minutes of whole school reading during Thursday's afternoon registration time, when you can quite literally hear a pin drop around school.
We hear you say, "That's all right for you – but what about us?" Well we believe everyone can do this. So, let's explore the barriers and find solutions for them:
1. Though we are well aware that we are lucky to have a whole school commitment and dedicated members of staff (including SLT and the head), you may experience trouble initially, getting the programme started. You might have to gain your Headteacher's or SLT commitment to the initiative. Being ever so slightly devious, one might have to befriend a dreaded member of the SLT team and convince them this is a good idea through academic reasoning. Obviously, you could argue that a whole school approach to reading will enhance literacy skills, benefit students and inevitably lead to an increase in attainment. Also, know your school development plan (SDP) and ensure you can argue that this programme should be compulsory to help meet the aims and objectives of the SDP. How can they so no after that?
2. Of course, there may be timetabling issues: Be prepared when discussing this with SLT and offer suggestions of when the sessions could be held. As a result of a previous conference, a colleague we met at the Guardian workshop implemented a system whereby every day at 11.00am all staff and students must Drop Everything and Read. He maintains that this has transformed the ethos of the school. However, our timetable was not as flexible so one afternoon registration a week works very well for our school. So, think about what would work for your school?
3. You will have problems engaging all of your staff and students with this ethos. A tried and tested method we used was a whole school inset session on reading for pleasure. Once you have the senior leadership team on side, ask them for a small slot on an inset day or twilight inset. Have a box of tricks ready – poetry, prose, magazines for different audiences, Guinness Book of World Records, etc! Ask staff to pick a text they want to read and show them how much fun you can have in 15 minutes – simply reading in a room with all your colleagues. Secondly, you could start a "Caught Reading" poster campaign. Take photos of staff "Caught Reading" – make posters which are fun and exciting! Our science teacher "Caught" reading whilst his hand was deliberately (yet safely) set on fire, is particularly thrilling. State what they are currently reading, what they read yesterday (including emails, maps, etc) and their history of reading. Students should see that reading can be functional and necessary as well as pleasurable. Students really do respond to seeing their favourite and worst teacher's photos.
4. There may be some issues with having enough resources. A well-stocked library with a plethora of eclectic books is definitely an advantage but not a necessity. Local librarians are normally willing to come into schools and offer information on local services (mobile libraries, author visits, etc) and how these will benefit the students. Try to liaise with and maintain a positive relationship with staff in the library as visiting the library as a class or tutor group is a pleasurable experience.
Though it may seem like a lot of hard work, we believe any of these initial barriers can be overcome with creative thinking and enthusiasm. Once the systems are in place, this really is the most rewarding and enjoyable way of seeing an embedded culture of reading, come to fruition in your school. As Miles, one of our year 8 students says, "At the end of the day you can calm down, relax and enjoy a good book, unwinding with your friends and teachers. But, you have to have a good book to enjoy it!" Even year 11 students showing prospective parents around the school stated, "It was awesome, the one time in the whole week when the whole school falls absolutely silent and two thousand people are quietly reading at the same time!"